Montreal Mini Storage - Lasalle
2707 Avenue Dollard, Montreal QC
Free Moving Truck with Movers *
Photos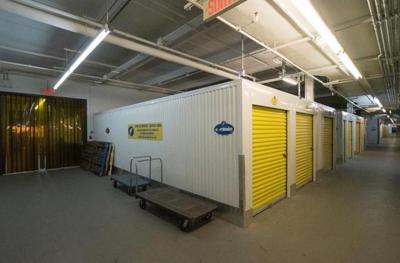 Hours
Office Hours

| | |
| --- | --- |
| Mon-Fri | 9:00am to 5:00pm |
| Sat | 10:00am to 5:00pm |
| | Sun closed |
Access Hours

| | |
| --- | --- |
| Daily | 24 hours |
About Montreal Mini Storage - Lasalle
Central location in LaSalle, near Lachine, Montreal West, Ville-Émard, Highway 20 and Route 138

Temperature-controlled storage facilities (heating and air conditioning available)

Security and safety (alarm system, cameras, sprinkler system, and electronic access card)

Moving carts and equipment for your convenience

Moving and packing supplies available

On-site manager, 7 days per week

Indoor unloading dock (heated)

Outdoor parking

All units accessible 24 hours a day, 365 days a year (depending upon availability)

All units are close to the unloading dock; no need to use the elevator (saves you time and money)

Steps from 116, 123 and 195 buses and minutes from metro station Angrignon

Ready-to-use executive offices. Convenient, professional and centrally located

Free Moving Truck with Movers *  on select units CALL NOW for Details
Unit Sizes and Pricing
Small Storage Units
(25-75 Square Feet)
Features
Climate Control
24/7 Security Monitoring
24 Hour Access
Parcel Delivery Acceptance
Drive-in Loading Bay
Packing Supplies
Dollies & Carts Available
Payment Options
Vehicle Storage
Hours
Office Hours

| | |
| --- | --- |
| Mon-Fri | 9:00am to 5:00pm |
| Sat | 10:00am to 5:00pm |
| | Sun closed |
Access Hours

| | |
| --- | --- |
| Daily | 24 hours |
Facility Reviews
---
Disappointed in the management of it all. I booked online which was the only part that went well. I specifically asked to pay in person, but I also needed access the day off and couldn't wait for staff to arrive at 9:30am in the morning as I was arriving earlier. The guy over the phone said that if I paid online, I would not need to go to the office during staff hours to have access to the unit. So I opted in since I was arriving early morning and wanted to move out of my car all my boxes into a unit, before heading out into town. When I arrive, the code was not working. Called their number, the agent over the line said I would have to wait for the staff to arrive in order to have access, but sent a note to them to change the number asap when they arrive. I asked and checked online for their hours and it was 9am-5pm (even tho on the phone they said 9:30am to 5pm). I was on a timeline and couldn't wait for the staff to arrive. That forced me to find a secure parking in town because with the value of what was inside my car, I couldn't just park it anywhere. I received a text message saying they changed the password soon after opening. Later that day, I managed to arrived at 16:30 right before they would close. Staff closed earlier and again no one on site was available. Luckily, the new code worked, but when I went inside. which ever map I looked at, none were showing my unit number. Called again the help phone line & they said they were going to send an emergency message to their staff to reach out to me asap. (never got the call). I had to search for well above 30 minutes inside this labyrinth to figure out where it was. Unit was fine, nothing wrong with it, but the process to get there was just more painful than it had to be. Not mad at the employees, not their fault, but this process could have been way better. Tried reaching out to get compensation for the troubles, still no replies at the moment of this message.
---
Very impressive service. Had all the necessary equipment to make the process go very smoothly. Love the 24 hour access. Reasonable pricing as well. All in all, a very nice experience.
---
Easy and user friendly but quite pricey.
---
Good service, quick to respond,. Clean, and good price!
---
Clean, secure, high quality, bright. Staff we dealt with, Sina in particular, was obliging, understanding and helpful. We highly recommend the facility.