Montreal Mini Storage - Ville Marie
2250 Boul de Maisonneuve E, Montreal QC
Free Moving Truck with Movers *
Photos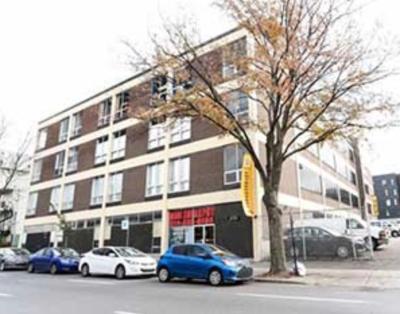 Hours
Office Hours

| | |
| --- | --- |
| Mon-Fri | 8:30am to 5:45pm |
| Sat,Sun | 9:00am to 4:45pm |
Access Hours

| | |
| --- | --- |
| Mon-Fri | 8:30am to 5:45pm |
| Sat,Sun | 9:00am to 4:45pm |
About Montreal Mini Storage - Ville Marie
Free Moving Truck with Movers* on select units.  Call NOW for details
Hours
Office Hours

| | |
| --- | --- |
| Mon-Fri | 8:30am to 5:45pm |
| Sat,Sun | 9:00am to 4:45pm |
Access Hours

| | |
| --- | --- |
| Mon-Fri | 8:30am to 5:45pm |
| Sat,Sun | 9:00am to 4:45pm |
Facility Reviews
---
As a student I'm really content with the prices and the locational possibilities since I'm using storage over a short time when I'm heading back home for summer. The staff are really friendly and helpful. I definitely recommend.
---
Definitely the best storage ever. So close to the metro. Nice staff like Patrick Very helpful people. And I love that everything is clean and secured
---
Went there not planning to do anything but ask for pricing but after speaking with the super helpful employee behind the counter i ended up taking the second smallest locker and decided to pay right away for 3 full months as needed to store some of my bosses boxes. I told the clerk i was only going.to come back the next day as I had nothing with me. So i didnt even see my locker. Nor was I shown where it was. Anyway . I ended up having to cancel the next day due to a loss of contract by my employer so they would no longer meed to store anything as we were all heading back to Australia, where we are living, tho originally from Quebec. I was.expecting obviously to have a penalty due to the term of my contract. Which is an month to month basis . And according to those terms I was.basicslly forfeiting the first month which I was.conpletely fine with. But they reply that all they will do is give me a.credit for their storage units . Well knowing I do not live here nor will I ever have to store anything as when i come I'm on holiday and not from mtl ar all far from it. Since I replied I still had the super nice clerk but he cannot do more than escalating my complaints but twice escalated and twice no reply from anyone. The 2 star review is ALL FOR ALAIN GAUTHIER . You are super professional and courteous and I thank you for trying to get it refunded for me. Maybe this review will grt costumer service going . Sad thing to have to do to speak with someone..Better.business bureau will work for sure if this doesnt.. what a waste of time and energy. Never seen the locker, never did more then pay 3 months in advance and cancelled and you tell.menthat your MAY not refund and MIGHT credit. is WILL DEFINITELY NOT BE .?
---
Little bit ghetto but you know if you need something reasonably priced to store your things it's great I certainly wouldn't store anything overly expensive though I mean to be honest my unit never seemed very secure there was no cage over the top and honestly if someone wanted in any of the units here badly enough I don't think it would be that difficult to get into it
---
Clean place and friendly staff. Enough free parking space to unload in peace.